Posts tagged
risc
0
Saturday 27th October 2012

St Giles Hotel – Feltham, London
11 AM to 5 PM
Tickets: £5 on the door, under-16s free
RISC OS User Group Of London (ROUGOL) is pleased to be organising the fourth RISC OS London Show. We will again have an exciting mix of hardware and software on display, plus guest speakers in the theater.
NEWS
2012-10-21 - New this year, room 3.14 for anyone to show off their Raspberry Pi projects, even if not RISC OS related. Anyone exhibiting a project gets free entry - contact us to register. Head of the R-Pi Foundation Eben Upton is hoping to be at the show, providing his jetlag after flying back from Korea is not too bad!
2012-10-20 - The Centre for Computing History will be bringing along their Cryoflux disc imager. If you have any of the missing software listed here bring it along for archiving.
2012-10-18 - The show will be the first chance to see the official release version of RISC OS for the Raspberry Pi
2012-10-17 - The Centre for Computing History have been added to the exhibitors list
2012-10-04 - Added Archive Magazine to the list of exhibitors - look out for the next feature packed issue!
2012-09-28 - The first list of exhibitors for the 2012 show is online, more updates to follow.
2012-01-22 - Help us to advertise the show by using one of our website banners on your own site.
0
Article taken from The Register -  Acorn Archimedes is 25
The Acorn Archimedes is 25 years old this month (June 2012). The first machines based on the company's ARM (Acorn Risc Machine) processor were announced in June 1987, the year after the 32-bit chip itself was launched.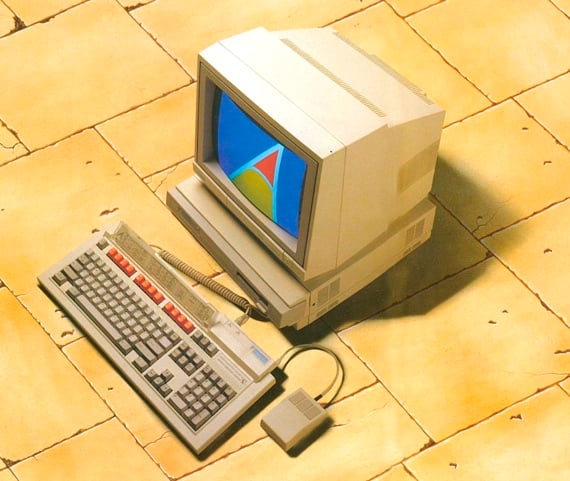 Four versions of the Archimedes were released in 1987: the A305, A310, A410 and A440. The first two had 512KB and 1MB of memory, respectively. You could upgrade an A305 to an A310 simply by adding in the extra Ram.
The A410 had 1MB of memory too, but the A440 had a (then) whopping 4MB and came with a 20MB hard drive as well as the 800KB 3.5in floppy drive – which also supported 640KB discs for BBC Master compatibility – found on the other three models.
Upgrading the A305 or A310 to A410 level was a matter of adding in a "Podule" backplane circuit board, which contained the hard drive controller. You also had to add, of course, the hard drive. There was room for two Podules on the A300 series.
You can read the rest of the article at Acorn Archimedes is 25
0
In this video, you will see a Acorn RISC PC 700 booting RISC OS 4.02 from ROM, then soft-loading 4.39 from the hard disk.
You will also see a bit of gameplay from Zool and Speed Ball 2, as well as a bit of the World Wide Web courtesy of the NetSurf web browser.